Astor Lift Chair
The Astor Platinum lift recliner is the ultimate in recliner design.With its fully enclosed lift mechanism, independent adjustmentoptions and the ability to deliver a zero gravity position atjust a touch of button the Astor Platinum Lift chair is completewith all the bells and whistles. Offered in fabric and leather.
89 (L) × 99 (D) × 115 (H) cm
89 (L) × 99 (D) × 115 (H) cm
10 Year warranty on frame, foam, seat springs and workmanship.
Lifetime Guarantee on La-Z-Boy Limited Reclining Mechanism
5 Year Guarantee on all other mechanisms
2 Years on Motors and all electrical components
3 Years on leather upholstery
1 Year on fabric upholstery
We proudly stand by the quality and service of La-Z-Boy Furniture who offer a 10 year structural and foam guarantee.
Please note, each product will have varying warranties depending on the specific components (ie. Upholstery, mechanism, motors & electrics, etc.). For more information please follow the link below listing the exact specifics of your guarantee or make contact with the store.
About La-Z-Boy
It is not just the design that allowed for the global success of La-Z-Boy, but rather a combination of branding, planning, people and innovation, joined together under the umbrella of the La-Z-Boy core values of comfort, quality and style…..For 90 years, these values have been the backbone of why La-Z-Boy and why the brand has been so successful.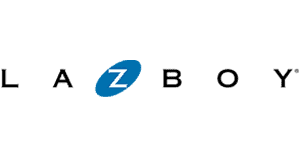 View More