Prague Lounge Suite
Sit back and relax on the Prague sofa! Contemporary and modern, it offers the perfect solution for comfort and style. It's linear profile and wooden tapered legs, complete with substantial armrest on one side gives you everything you need in a sofa. Match it with the Prague chair to complete the contemporary look. Design Tip: There are options for the side you would like the armrest, which means you can tailor it for your specific room shape.
273 (L) × 225 (D) × 86.5 (H) cm
225 (L) × 98 (D) × 86.5 (H) cm
271.5 (L) × 271.5 (D) × 86.5 (H) cm
225 (L) × 98 (D) × 86.5 (H) cm
273 (L) × 225 (D) × 86.5 (H) cm
225 (L) × 98 (D) × 86.5 (H) cm
271.5 (L) × 271.5 (D) × 86.5 (H) cm
225 (L) × 98 (D) × 86.5 (H) cm
10 Year warranty on frame, foam, seat springs and workmanship.
Lifetime Guarantee on La-Z-Boy Limited Reclining Mechanism
5 Year Guarantee on all other mechanisms
2 Years on Motors and all electrical components
3 Years on leather upholstery
1 Year on fabric upholstery
We proudly stand by the quality and service of La-Z-Boy Furniture who offer a 10 year structural and foam guarantee.
Please note, each product will have varying warranties depending on the specific components (ie. Upholstery, mechanism, motors & electrics, etc.). For more information please follow the link below listing the exact specifics of your guarantee or make contact with the store.
More From The Prague Range
About La-Z-Boy
It is not just the design that allowed for the global success of La-Z-Boy, but rather a combination of branding, planning, people and innovation, joined together under the umbrella of the La-Z-Boy core values of comfort, quality and style…..For 90 years, these values have been the backbone of why La-Z-Boy and why the brand has been so successful.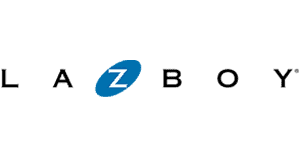 View More